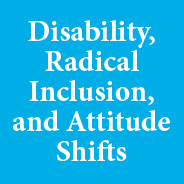 Disability, Radical Inclusion, and Attitude Shifts
Dave Symington
This talk will explore various issues concerning disability, societal attitudes, and some radical ideas about sexuality and inclusion. Through personal experience of living with a disability for over 40 years, as well as 20 years of living without a disability, the speaker will explore systemic and social changes up to this point and possibilities for the future.
Dave Symington spent most of his career working in the post secondary system as a counselor, advisor, program manager and policy coordinator. He currently spends his time engaged in music, advocacy and volunteer work.
Further reading/viewing:
Books:
The Forest Unseen, David George Haskell
Free Will, Sam Harris
Bring Me the Rhinoceros, John Tarrant
Articles:
https://www.nytimes.com/2017/01/18/opinion/denouncing-trump-wont-help-disability-rights.html?_r=1
https://thecreativeindependent.com/people/conner-habib-on-changing-the-way-we-think-about-everything/
http://www.vincegowmon.com/choosing-heart-and-life-amongst-the-busyness-of-things/#disqus_thread
https://www.thestar.com/opinion/commentary/2014/03/30/a_respectful_postscript_to_edward_hungs_endoflife_letter.html

Movies:
Scarlett Road
https://youtu.be/DMXjc_Ow4mg
http://23.235.208.12/~beacon38/wp-content/uploads/2015/09/beacon-logo-2015-header.png
0
0
Beacon
http://23.235.208.12/~beacon38/wp-content/uploads/2015/09/beacon-logo-2015-header.png
Beacon
2017-01-31 21:05:29
2017-02-06 12:42:10
Jan-29-2017: Disability, Radical Inclusion, and Attitude Shifts