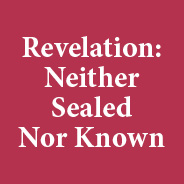 Revelation: Neither Sealed Nor Known
Rev. Ev Morris

In my opinion, the essence of Unitarian truth is simple. That which separates us from, and elevates us above all other religions, is one simple phrase: Revelation is neither sealed nor known. It amazes me that something so clear and central and basic has received such little attention. This sermon tries to correct this oversight.
Rev. Ev Morris is a member of Beacon and a retired Unitarian minister who served Beacon from 1998-2002. A few years ago Rev. Ev self published a little book of poetry and a book of sermons. He has recently produced a blog of what he assessed were his best sermons over his 15 year career as a minister. You can find these sermons and some of his other writings at https://evmorris.wordpress.com.
http://23.235.208.12/~beacon38/wp-content/uploads/2015/09/beacon-logo-2015-header.png
0
0
Beacon
http://23.235.208.12/~beacon38/wp-content/uploads/2015/09/beacon-logo-2015-header.png
Beacon
2016-12-31 12:28:20
2016-12-31 12:56:08
Dec-11-2016: Revelation—Neither Sealed Nor Known