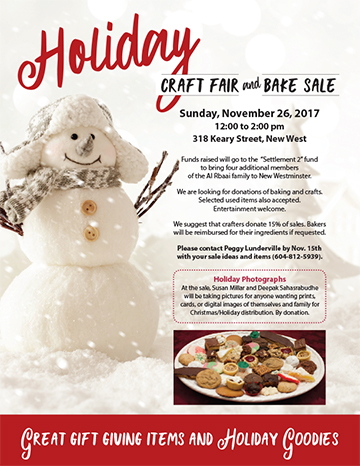 Sunday, November 26, 2017
12:00 to 2:00 pm
318 Keary Street, New West
Funds raised will go to the "Settlement 2" fund to bring four additional members
of the Al Rbaai family to New Westminster.
We are looking for donations of baking and crafts. Selected used items also accepted.
Entertainment welcome.
We suggest that crafters donate 15% of sales. Bakers will be reimbursed for their ingredients if requested.
Please contact Peggy Lunderville by Nov. 15th with your sale ideas and items (604-812-5939).
Holiday Photographs
At the sale, Susan Millar and Deepak Sahasrabudhe will be taking pictures for anyone wanting prints, cards, or digital images of themselves and family for
Christmas/Holiday distribution. By donation.