This Beacon-affiliated group meets online, on the fourth Thursday of the month, at 7 pm. Newcomers and drop-ins are always welcome!
Register in advance for this meeting. After registering, you will receive a confirmation email containing information about joining the meeting.
For more information, please contact bookclub@beaconunitarian.org
June 23, 2022
By Barbara Kingsolver
HarperCollins Publishers, c2012, 436 p.
Facilitator: Carol Woodworth
Subject and Genre: Fiction, Thriller, Climatic changes, Appalachian Mountains, Families
Summary: Set in the present day in the rural community of Feathertown, Tennessee, this novel tells the story of Dellarobia Turnbow, a petite, razor-sharp 29-year-old who nurtured worldly ambitions before becoming pregnant and marrying at seventeen. Now, after more than a decade of tending to small children on a failing farm, oppressed by poverty, isolation and her husband's antagonistic family, she has mitigated her boredom by surrendering to an obsessive flirtation with a handsome younger man. In the opening scene, Dellarobia is headed for a secluded mountain cabin to meet this man and initiate what she expects will be a self-destructive affair. But the tryst never happens. Instead, she walks into something on the mountainside she cannot explain or understand: a forested valley filled with a lake of silent red fire that appears to her a miracle. After years lived entirely in the confines of one small house, Dellarobia finds her path suddenly opening out, chapter by chapter, into blunt and confrontational engagement with her family, her church, her town, her continent, and finally the world at large.
(Source: BPL catalogue)
July 28, 2022
By Richard Powers
W. Norton & Company, c. 2018, 502 p.
Facilitator: John Hagen
Subject and Genre: Fiction, Trees, Forest conservation, Forests and forestry
Awards: Winner of the Pulitzer Prize in Fiction
Winner of the William Dean Howells Medal
Shortlisted for the Man Booker Prize
Over One Year on the New York Times Bestseller List
A New York Times Notable Book and a Washington Post, Time, Oprah Magazine, Newsweek, Chicago Tribune, and Kirkus Reviews Best Book of the Year
Reviews and Endorsements:
"Monumental…The Overstory accomplishes what few living writers from either camp, art or science, could attempt. Using the tools of the story, he pulls readers heart-first into a perspective so much longer-lived and more subtly developed than the human purview that we gain glimpses of a vast, primordial sensibility, while watching our own kind get whittled down to size….A gigantic fable of genuine truths."
— Barbara Kingsolver, The New York Times Book Review (cover review)
"Remarkable….This ambitious novel soars up through the canopy of American literature and remakes the landscape of environmental fiction." — Ron Charles , Washington Post
"Autumn makes me think of leaves, which makes me think of trees, which makes me think of The Overstory, the best novel ever written about trees, and really, just one of the best novels, period." — AnnPatchett
Summary: A novel of activism and natural-world power presents interlocking fables about nine remarkable strangers who are summoned in different ways by trees for an ultimate, brutal stand to save the continent's few remaining acres of virgin forest.
(Source: Burnaby Public Library catalogue)
The Overstory, winner of the 2019 Pulitzer Prize in Fiction, is a sweeping, impassioned work of activism and resistance that is also a stunning evocation of—and paean to—the natural world. From the roots to the crown and back to the seeds, Richard Powers's twelfth novel unfolds in concentric rings of interlocking fables that range from antebellum New York to the late twentieth-century Timber Wars of the Pacific Northwest and beyond. There is a world alongside ours—vast, slow, interconnected, resourceful, magnificently inventive, and almost invisible to us. This is the story of a handful of people who learn how to see that world and who are drawn up into its unfolding catastrophe. (Source: WW Norton publisher)
August 25, 2022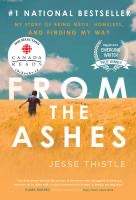 From the Ashes: My Story of Being Métis, Homeless, and Finding My Way
By Jesse Thistle
Simon & Schuster Canada, 2019, 354 pp.
Facilitator: Marilyn Medén
Subject and genre: Métis, Homeless persons, Addicts, Indigenous peoples, Autobiographies
Summary: "From the Ashes is a remarkable memoir about hope and resilience, and a revelatory look into the life of a Métis-Cree man who refused to give up. Abandoned by his parents as a toddler, Jesse Thistle briefly found himself in the foster-care system with his two brothers, cut off from all they had known. Eventually the children landed in the home of their paternal grandparents, but their tough-love attitudes meant conflicts became commonplace. And the ghost of Jesse's drug-addicted father haunted the halls of the house and the memories of every family member. Struggling, Jesse succumbed to a self-destructive cycle of drug and alcohol addiction and petty crime, spending more than a decade on and off the streets, often homeless. One day, he finally realized he would die unless he turned his life around. In this heartwarming and heartbreaking memoir, Jesse Thistle writes honestly and fearlessly about his painful experiences with abuse, uncovering the truth about his parents, and how he found his way back into the circle of his Indigenous culture and family through education. An eloquent exploration of what it means to live in a world surrounded by prejudice and racism and to be cast adrift, From the Ashes is, in the end, about how love and support can help one find happiness despite the odds."– Provided by publisher.
___ Source: BPL Catalogue
Marilyn's Comment: From The Ashes by Jesse Thistle is a story of indigenous experience… it is the autobiographical and deeper story of one man. Jesse Thistle's writing is superb. He manages to transcend his own very dramatic history and connect with emotions we all have. I was entranced, addicted to his story and his writing for all three hundred and thirty-seven pages.
Awards:
#1 NATIONAL BESTSELLER
*Winner, Kobo Emerging Writer Prize Nonfiction
*Winner, Indigenous Voices Awards
*Winner, High Plains Book Awards
*Finalist, CBC Canada Reads
*A Globe and Mail Book of the Year
*An Indigo Book of the Year
*A CBC Best Canadian Nonfiction Book of the Year