This Beacon-affiliated group meets online, on the fourth Thursday of the month, at 7 pm. Newcomers and drop-ins are always welcome!
Register in advance for this meeting. After registering, you will receive a confirmation email containing information about joining the meeting.
For more information, please contact bookclub@beaconunitarian.org
Thursday, Dec 29, 2022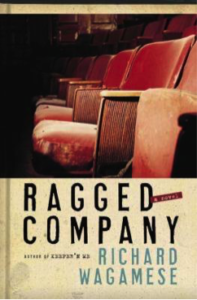 Ragged Company: a novel by Richard Wagamese
Doubleday Canada, c2008. Book: 376 p. Audio: 15 hrs., 23 min.
Presenter: Carol Woodworth
 Genre / Subjects: Fiction, Homeless persons, Friendship, Lottery winners
Book Summary: Four chronically homeless people: Amelia One Sky; Timber; Double Dick; and Digger, seek refuge in a warm movie theatre when a severe Arctic Front descends on the city. During what is supposed to be a one-time event, this temporary refuge transfixes them. They fall in love with this new world, and once the weather clears, continue their trips to the cinema. On one of these outings they meet Granite, a jaded and lonely journalist who has turned his back on writing the same story over and over again in favour of the escapist qualities of film, and an unlikely friendship is struck. A found cigarette package (contents: some unsmoked cigarettes, three $20 bills, and a lottery ticket) changes the fortune of this struggling set. The ragged company discovers they have won $13.5 million, but none of them can claim the money for lack of proper identification. Enlisting the help of Granite, their lives and fortunes become forever changed.   — Burnaby Public Library Catalogue
Thursday, Jan 26, 2023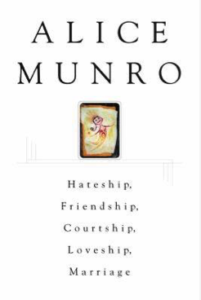 Hateship, Friendship, Courtship, Loveship, Marriage: Stories by Alice Munro
McClelland & Stewart, c2001, Book: 321 pages. Audio: not available. NOTE: Republished in 2007 by Penguin Group as: Away From Her
Presenter: Sylvia McDonald
 Genre / Subjects: Short stories, Canadian (English) — 20th century. Women, Fiction, Canada, Social life and customs.
Book Summary: A collection of short fiction explores the complexities of human relationships and emotions in stories about a housekeeper entering old-maidhood whose life is transformed by a practical joke and a lifelong philanderer who finds the tables turned. — Burnaby Public Library Catalogue
As always, Alice Munro surprises us. While the nine stories in this new collection could not be written by anyone else, they are subtly different. The title story, for example, ranges from small-town Ontario just after the war to a near-deserted hotel on the bald Saskatchewan prairie. The setting may be strange, uncharted Munro territory, but the plot is familiar, with two lives changed forever by a random act of mischief that can never be revealed.
"Floating Bridge" is also a typical Alice Munro story, but different. Forty-two-year-old Jinny is fighting cancer, and the front room in their middle-class home is turned into a sickroom. Her husband hires a girl to look after her, and they visit the girl's trailer park relatives. Class tensions are exposed ("You know you'll hurt their feelings," he whispered. "They're trying to be nice to you."), and then something both unbelievable and totally believable happens to conclude the story in a way the reader will never forget.
Other stories contain lines that change the world. A promisingly flirtatious reunion with a teenage sweetheart, now married, takes an unexpected turn. ("About our youngest boy," he said. "Our youngest boy was killed last summer." Oh. "He was run over," he said. "I was the one who ran over him. Backing out of our driveway." I stopped again. He stopped with me. Both of us stared ahead. "His name was Brian. He was three.")
In this great book by one of the world's great writers, the settings may be Vancouver Island, small-town Ontario, Toronto, or Vancouver, but the stories are universal, and the characters – no, the people in the stories – are unforgettable.   —Amazon
Thursday, Feb 23, 2023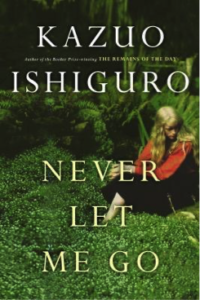 Never Let Me Go by Kazuo Ishiguro
Knopf Canada, c. 2005, 263 pages. Audio 9 hrs, 43 min.
Presenter: Marilyn Medén
 Genre: Psychological fiction
 Subjects: Women, Human cloning, organ donors, donation of organs, tissues, etc., boarding school students, England
Book Summary: From the Booker Prize-winning author of The Remains of the Day and When We Were Orphans, comes an unforgettable edge-of-your-seat mystery that is at once heartbreakingly tender and morally courageous about what it means to be human. Hailsham seems like a pleasant English boarding school, far from the influences of the city. Its students are well tended and supported, trained in art and literature, and become just the sort of people the world wants them to be. But, curiously, they are taught nothing of the outside world and are allowed little contact with it. Within the grounds of Hailsham, Kathy grows from schoolgirl to young woman, but it's only when she and her friends Ruth and Tommy leave the safe grounds of the school (as they always knew they would) that they realize the full truth of what Hailsham is. Never Let Me Go breaks through the boundaries of the literary novel. It is a gripping mystery, a beautiful love story, and also a scathing critique of human arrogance and a moral examination of how we treat the vulnerable and different in our society. In exploring the themes of memory and the impact of the past, Ishiguro takes on the idea of a possible future to create his most moving and powerful book to date.