This Beacon-affiliated group meets online, on the fourth Thursday of the month, at 7 pm. Newcomers and drop-ins are always welcome!
Register in advance for this meeting. After registering, you will receive a confirmation email containing information about joining the meeting.
For more information, please contact bookclub@beaconunitarian.org
July 28, 2022
By Richard Powers
W. Norton & Company, c. 2018, 502 p.
Facilitator: John Hagen
Subject and Genre: Fiction, Trees, Forest conservation, Forests and forestry
Awards: Winner of the Pulitzer Prize in Fiction
Winner of the William Dean Howells Medal
Shortlisted for the Man Booker Prize
Over One Year on the New York Times Bestseller List
A New York Times Notable Book and a Washington Post, Time, Oprah Magazine, Newsweek, Chicago Tribune, and Kirkus Reviews Best Book of the Year
Reviews and Endorsements:
"Monumental…The Overstory accomplishes what few living writers from either camp, art or science, could attempt. Using the tools of the story, he pulls readers heart-first into a perspective so much longer-lived and more subtly developed than the human purview that we gain glimpses of a vast, primordial sensibility, while watching our own kind get whittled down to size….A gigantic fable of genuine truths."
— Barbara Kingsolver, The New York Times Book Review (cover review)
"Remarkable….This ambitious novel soars up through the canopy of American literature and remakes the landscape of environmental fiction." — Ron Charles , Washington Post
"Autumn makes me think of leaves, which makes me think of trees, which makes me think of The Overstory, the best novel ever written about trees, and really, just one of the best novels, period." — AnnPatchett
Summary: A novel of activism and natural-world power presents interlocking fables about nine remarkable strangers who are summoned in different ways by trees for an ultimate, brutal stand to save the continent's few remaining acres of virgin forest.
(Source: Burnaby Public Library catalogue)
The Overstory, winner of the 2019 Pulitzer Prize in Fiction, is a sweeping, impassioned work of activism and resistance that is also a stunning evocation of—and paean to—the natural world. From the roots to the crown and back to the seeds, Richard Powers's twelfth novel unfolds in concentric rings of interlocking fables that range from antebellum New York to the late twentieth-century Timber Wars of the Pacific Northwest and beyond. There is a world alongside ours—vast, slow, interconnected, resourceful, magnificently inventive, and almost invisible to us. This is the story of a handful of people who learn how to see that world and who are drawn up into its unfolding catastrophe. (Source: WW Norton publisher)
August 25, 2022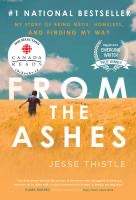 From the Ashes: My Story of Being Métis, Homeless, and Finding My Way
By Jesse Thistle
Simon & Schuster Canada, 2019, 354 pp.
Facilitator: Marilyn Medén
Subject and genre: Métis, Homeless persons, Addicts, Indigenous peoples, Autobiographies
Summary: "From the Ashes is a remarkable memoir about hope and resilience, and a revelatory look into the life of a Métis-Cree man who refused to give up. Abandoned by his parents as a toddler, Jesse Thistle briefly found himself in the foster-care system with his two brothers, cut off from all they had known. Eventually the children landed in the home of their paternal grandparents, but their tough-love attitudes meant conflicts became commonplace. And the ghost of Jesse's drug-addicted father haunted the halls of the house and the memories of every family member. Struggling, Jesse succumbed to a self-destructive cycle of drug and alcohol addiction and petty crime, spending more than a decade on and off the streets, often homeless. One day, he finally realized he would die unless he turned his life around. In this heartwarming and heartbreaking memoir, Jesse Thistle writes honestly and fearlessly about his painful experiences with abuse, uncovering the truth about his parents, and how he found his way back into the circle of his Indigenous culture and family through education. An eloquent exploration of what it means to live in a world surrounded by prejudice and racism and to be cast adrift, From the Ashes is, in the end, about how love and support can help one find happiness despite the odds."– Provided by publisher.
___ Source: BPL Catalogue
Marilyn's Comment: From The Ashes by Jesse Thistle is a story of indigenous experience… it is the autobiographical and deeper story of one man. Jesse Thistle's writing is superb. He manages to transcend his own very dramatic history and connect with emotions we all have. I was entranced, addicted to his story and his writing for all three hundred and thirty-seven pages.
Awards:
#1 NATIONAL BESTSELLER
*Winner, Kobo Emerging Writer Prize Nonfiction
*Winner, Indigenous Voices Awards
*Winner, High Plains Book Awards
*Finalist, CBC Canada Reads
*A Globe and Mail Book of the Year
*An Indigo Book of the Year
*A CBC Best Canadian Nonfiction Book of the Year
Thursday, Sept 22, 2022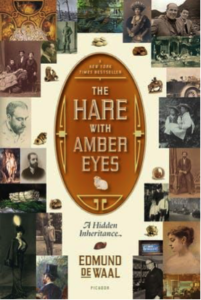 The Hare With Amber Eyes: a Hidden Inheritance by Edmund de Waal
2010. Book: 354 pages. Audio: 10.5 hrs.
Presenter: Sylvia McDonald
Genre/Subject: Memoir, Art Collections, Collectors and Collections, Netsukes
Summary: A memoir in which Edmund de Waal travels the world to stand in the great buildings his forebears once inhabited. It traces the lines of a remarkable family against the backdrop of a tumultuous century.   — Burnaby Public Library
Edmund de Waal is a world-famous ceramicist. Having spent thirty years making beautiful pots—which are then sold, collected, and handed on—he has a particular sense of the secret lives of objects. When he inherited a collection of 264 tiny Japanese wood and ivory carvings, called netsuke, he wanted to know who had touched and held them, and how the collection had managed to survive.
And so begins this extraordinarily moving memoir and detective story as de Waal discovers both the story of the netsuke and of his family, the Ephrussis, over five generations. A nineteenth-century banking dynasty in Paris and Vienna, the Ephrussis were as rich and respected as the Rothchilds. Yet by the end of the World War II, when the netsuke were hidden from the Nazis in Vienna, this collection of very small carvings was all that remained of their vast empire.   — Publisher
Thursday, Oct 27, 2022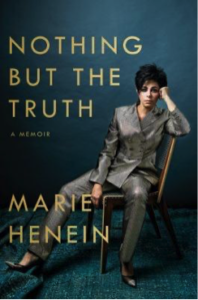 Nothing But the Truth: a Memoir by Marie Henein
Signal, c. 2021 Book: 266 pages Audio: 7 hrs. 52 min.
Presenter: Susan Tarras
Genre / Subjects: Autobiographies, Criminal defended lawyers, Women lawyers
Book Summary: A memoir by Canada's top (and most controversial) defense lawyer, Nothing But the Truth weaves Marie Henein's personal story with her strongly held views on society's most pressing issues, legal and otherwise. Her story, as an immigrant from a tightknit Egyptian-Lebanese family, demonstrates the value of strong role models–from her mother and grandmother, to her brilliant uncle Sami who died of AIDS, to the late and legendary Eddie Greenspan, Marie learned the value of hard work, being true to herself and others, and never compromising because of her sex. Ms. Henein shares here her unvarnished view on the ethical and practical implications of being a criminal lawyer (i.e., forget work-life balance, it's a myth in this line of work), and how the job is misunderstood and even demonized. Ironically, her successful defense of former Ontario Attorney General Michael Bryant and then Jian Ghomeshi made her a pariah in some circles, confirming her belief that most of the public's understanding of the justice system is based on popular culture, social and mainstream media, and decidedly not the rule of law. As she turns 50 and struggles with the corrosive effect on women of becoming invisible, Marie doubles down on being even more highly visible and opinionated as she deconstructs, among other things, the otherness of the immigrant experience (Where are you really from?), the pros and cons of being a household name in this country, opening her own boutique law firm, and the likes of Martha Stewart and her toxic brand of perfectionism.   — Burnaby Public Library Catalogue
Thursday, Nov 24, 2022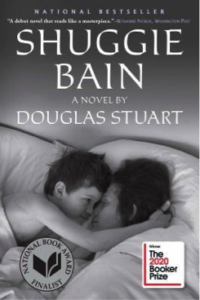 Shuggie Bain: a novel by Douglas Stuart.
Grove Press, c. 2020. Book: 430 pages. Audio: 17 hrs., 41 min.
Presenter: Gail Thomson
 Genre / Subjects: Domestic fiction, Bildungsromans, Boys, Working class families, Mothers and sons, Women alcoholics, Glasgow (Scotland)
Book Summary: "Shuggie Bain is the unforgettable story of young Hugh "Shuggie" Bain, a sweet and lonely boy who spends his 1980s childhood in public housing in Glasgow, Scotland. Thatcher's war on heavy industry has put husbands and sons out of work, and the city's notorious drugs epidemic is waiting in the wings. Shuggie's mother Agnes walks a wayward path: she is Shuggie's guiding light but a burden for his artistic brother and practical sister. She dreams of a house with its own front door while she flicks through the pages of the Freemans catalogue, ordering a little happiness on credit, anything to brighten up her grey life. Married to a "whoremaster" of a husband, Agnes keeps her pride by looking good – her beehive, make-up, and pearly-white false teeth offer a glamourous image of a Glaswegian Elizabeth Taylor. But under the surface, Agnes finds increasing solace in drink, and she drains away the lion's share of each week's benefits – all the family has to live on – on cans of extra-strong lager hidden in handbags and poured into tea mugs. Agnes's older children find their own ways to get a safe distance from their mother, abandoning Shuggie to look after her as she swings between alcoholic binges and sobriety. He is meanwhile doing all he can to somehow become the normal boy he desperately longs to be, but everyone has realized that Shuggie is "no right," and now Agnes's addiction has the power to eclipse everyone close to her-even and especially her beloved Shuggie."
Thursday, Dec 22, 2022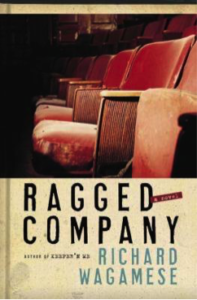 Ragged Company: a novel by Richard Wagamese
Doubleday Canada, c2008. Book: 376 p. Audio: 15 hrs., 23 min.
Presenter: Carol Woodworth
 Genre / Subjects: Fiction, Homeless persons, Friendship, Lottery winners
Book Summary: Four chronically homeless people: Amelia One Sky; Timber; Double Dick; and Digger, seek refuge in a warm movie theatre when a severe Arctic Front descends on the city. During what is supposed to be a one-time event, this temporary refuge transfixes them. They fall in love with this new world, and once the weather clears, continue their trips to the cinema. On one of these outings they meet Granite, a jaded and lonely journalist who has turned his back on writing the same story over and over again in favour of the escapist qualities of film, and an unlikely friendship is struck. A found cigarette package (contents: some unsmoked cigarettes, three $20 bills, and a lottery ticket) changes the fortune of this struggling set. The ragged company discovers they have won $13.5 million, but none of them can claim the money for lack of proper identification. Enlisting the help of Granite, their lives and fortunes become forever changed.   — Burnaby Public Library Catalogue
Thursday, Jan 26, 2022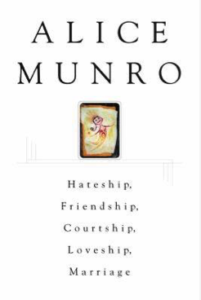 Hateship, Friendship, Courtship, Loveship, Marriage: Stories by Alice Munro
McClelland & Stewart, c2001, Book: 321 pages. Audio: not available. NOTE: Republished in 2007 by Penguin Group as: Away From Her
Presenter: Sylvia McDonald
 Genre / Subjects: Short stories, Canadian (English) — 20th century. Women, Fiction, Canada, Social life and customs.
Book Summary: A collection of short fiction explores the complexities of human relationships and emotions in stories about a housekeeper entering old-maidhood whose life is transformed by a practical joke and a lifelong philanderer who finds the tables turned. — Burnaby Public Library Catalogue
As always, Alice Munro surprises us. While the nine stories in this new collection could not be written by anyone else, they are subtly different. The title story, for example, ranges from small-town Ontario just after the war to a near-deserted hotel on the bald Saskatchewan prairie. The setting may be strange, uncharted Munro territory, but the plot is familiar, with two lives changed forever by a random act of mischief that can never be revealed.
"Floating Bridge" is also a typical Alice Munro story, but different. Forty-two-year-old Jinny is fighting cancer, and the front room in their middle-class home is turned into a sickroom. Her husband hires a girl to look after her, and they visit the girl's trailer park relatives. Class tensions are exposed ("You know you'll hurt their feelings," he whispered. "They're trying to be nice to you."), and then something both unbelievable and totally believable happens to conclude the story in a way the reader will never forget.
Other stories contain lines that change the world. A promisingly flirtatious reunion with a teenage sweetheart, now married, takes an unexpected turn. ("About our youngest boy," he said. "Our youngest boy was killed last summer." Oh. "He was run over," he said. "I was the one who ran over him. Backing out of our driveway." I stopped again. He stopped with me. Both of us stared ahead. "His name was Brian. He was three.")
In this great book by one of the world's great writers, the settings may be Vancouver Island, small-town Ontario, Toronto, or Vancouver, but the stories are universal, and the characters – no, the people in the stories – are unforgettable.   —Amazon
Thursday, Feb 23, 2022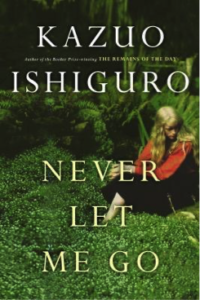 Never Let Me Go by Kazuo Ishiguro
Knopf Canada, c. 2005, 263 pages. Audio 9 hrs, 43 min.
Presenter: Marilyn Medén
 Genre: Psychological fiction
 Subjects: Women, Human cloning, organ donors, donation of organs, tissues, etc., boarding school students, England
Book Summary: From the Booker Prize-winning author of The Remains of the Day and When We Were Orphans, comes an unforgettable edge-of-your-seat mystery that is at once heartbreakingly tender and morally courageous about what it means to be human. Hailsham seems like a pleasant English boarding school, far from the influences of the city. Its students are well tended and supported, trained in art and literature, and become just the sort of people the world wants them to be. But, curiously, they are taught nothing of the outside world and are allowed little contact with it. Within the grounds of Hailsham, Kathy grows from schoolgirl to young woman, but it's only when she and her friends Ruth and Tommy leave the safe grounds of the school (as they always knew they would) that they realize the full truth of what Hailsham is. Never Let Me Go breaks through the boundaries of the literary novel. It is a gripping mystery, a beautiful love story, and also a scathing critique of human arrogance and a moral examination of how we treat the vulnerable and different in our society. In exploring the themes of memory and the impact of the past, Ishiguro takes on the idea of a possible future to create his most moving and powerful book to date.