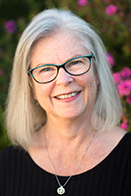 Welcome to our joyful, creative, transforming community! Beacon is an intentionally diverse and inclusive community of spiritual seeking and socially conscious people from New Westminster, the Tri-Cities, and other municipalities east of Vancouver. We invite you to explore this web site and its links to see what our community and Unitarianism has to offer you. If you find that you are curious to know more, please join us on Sunday morning or contact me if you have questions!
— Warmly, Rev. Debra Thorne

Sunday, January 27th
10:30 am
Staying Embodied through Times of Physical Change
Guest Speaker: Sarah Louise Turner
Service Leaders: Nancy Rupert and Janet Pivnick
Our bodies both connect us to and give us information about the world around us. How do we learn to heed the spiritual messages that our bodies are telling us and how do we find spiritual equilibrium when, due to illness or pain, those messages aren't trustworthy? Join actress and educator, Sarah Louise Turner, to contemplate the connection between embodiment and spiritual wisdom in an ever-changing body.
Children & Youth: Spirit Jam Sunday.
Upcoming service descriptions here.