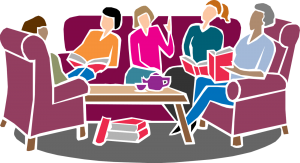 This Beacon-affiliated group meets once a month, with hosts rotating.  There has been an eclectic and interesting selection of books chosen by group members, such as:
The Painted Girls by Cathy Marie Buchanan
Late Nights on Air by Elizabeth Hay
Atonement by Ian McEwan
The Art of Racing in the Rain by Garth Stein
God's Dog by Diego Marani
No Great Mischief by Alistair MacLeod
The Morning River by W. Michael Gear
The Dance of the Dissident Daughter by Sue Monk Kidd
Evidence of Things Unseen by Marianne Wiggins
February by Lisa Moore
Klee Wyck by Emily Carr
What Could He Be Thinking? by Michael Gurian.
For more information, please contact bookclub@beaconunitarian.org