This Beacon-affiliated group meets online, on the fourth Thursday of the month, at 7 pm. Newcomers and drop-ins are always welcome! For more information, please contact bookclub@beaconunitarian.org
May 27, 2021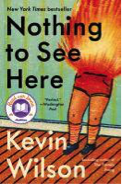 Nothing to See Here by Kevin Wilson, c. 2019, 254 p.
Facilitator: Carol Woodworth
Genres/Subjects: Domestic Fiction, Humourous Fiction, American
Summary: Lillian and Madison were unlikely, yet inseparable friends at their boarding school. Then Lillian had to leave the school unexpectedly in the wake of a scandal, and they have barely spoken since. Years later, Lillian gets a letter from Madison pleading for her help. Madison's twin stepkids are moving in, and she wants Lillian to be their caretaker. However, there's a catch: the twins spontaneously combust when they get agitated. Lillian is convinced Madison is pulling her leg, but it's the truth. Thinking of the life that has consistently disappointed her, Lillian figures she has nothing to lose. Over the course of one demanding summer, Lillian and the twins learn to trust each other while also staying out of the way of Madison's uptight husband. Surprised by her intense feelings of protectiveness she feels for them, Lillian ultimately begins to accept that she needs these strange children as much as they need her. Could this be the start of the amazing life she'd always hoped for? (BPL)
June 24, 2021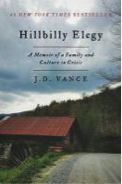 Hillbilly Elegy: A Memoir of A Family and Culture in Crisis by JD Vance, c. 2016, 264 p.
Facilitator: Joyanne Landers
Genres/Subjects: Memoir, American
Summary: Shares the story of the author's family and upbringing, describing how they moved from poverty to an upwardly mobile clan that included the author, a Yale Law School graduate, while navigating the demands of middle class life and the collective demons of the past. (BPL)
July 22, 2021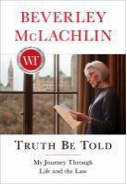 Truth Be Told: my journey through life and the law by Beverley McLachlin, c. 2019, 373 p.
Facilitator: Karen Hamilton
Genre/Subjects: Memoir, Canadian
Summary: "Former Chief Justice of the Supreme Court of Canada, Beverley McLachlin, offers an intimate and revealing look at her life and shares her insights into the most pressing legal and social questions we face today. As a young girl, Beverley McLachlin's world was often full of wonder–at the expansive Prairie vistas around her, at the stories she discovered in the books at her local library, and at the diverse people who passed through her parents' door. While her family was poor, their lives were rich in the ways that mattered most. Even at a young age, she had an innate sense of justice, which was reinforced by the lessons her parents taught her: Everyone deserves dignity. All people are equal. Those who work hard reap the rewards. Willful, spirited, and unusually intelligent, she discovered in Pincher Creek an extraordinary tapestry of people and perspectives that informed her worldview going forward. Still, life in the rural Prairies was lonely, and gaining access to education–especially for girls–wasn't always easy. As a young woman, McLachlin moved to Edmonton to pursue a degree in philosophy. There, she discovered her passion lay not in the ivory towers of academia, but in the real world, solving problems directly related to the lives of the people around her. And in the law, she found the tools to do exactly that. She soon realized, though, that the world was not always willing to accept her. In her early years as an articling student and lawyer, she encountered sexism, exclusion, and old boys' clubs at every turn. And outside the courtroom, personal loss and tragedies struck close to home. Nonetheless, McLachlin was determined to prove her worth, and her love of the law and the pursuit of justice pulled her through the darkest moments. McLachlin's meteoric rise through the courts soon found her serving on the highest court in the country, becoming the first woman to be named Chief Justice of the Supreme Court of Canada. She rapidly distinguished herself as a judge of renown, one who was never afraid to take on morally complex or charged debates. Over the next eighteen years, McLachlin presided over the most prominent cases in the country–involving Charter challenges, same-sex marriage, and euthanasia. One judgment at a time, she laid down a legal legacy that proved that fairness and justice were not luxuries of the powerful but rather obligations owed to each and every one of us. With warmth, honesty, and deep wisdom, McLachlin invites us into her legal and personal life–into the hopes and doubts, the triumphs and losses on and off the bench. Through it all, her constant faith in justice remained her true north. In an age of division and uncertainty, McLachlin's memoir is a reminder that justice and the rule of law remain our best hope for a progressive and bright future." (Source: BPL)
August 26, 2021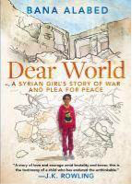 Dear World: a Syrian Girl's Story of War and a Plea for Peace by Bana Al Abed, c. 2017, 205 p.
Facilitator: Carol Woodworth
Genre: Biography
Summary: When seven-year-old Bana Alabed took to Twitter to describe the horrors she and her family were experiencing in war-torn Syria, her heartrending messages touched the world and gave a voice to millions of innocent children. (Source: BPL)