This Beacon-affiliated group meets online, on the fourth Thursday of the month, at 7 pm. Newcomers and drop-ins are always welcome!
Register in advance for this meeting. After registering, you will receive a confirmation email containing information about joining the meeting.
For more information, please contact bookclub@beaconunitarian.org
March 22, 2022
By Ann Patchett
Harper Collins, c. 2019, 337p.
Facilitator: Gail Thomson
Subject and genre: Historical fiction, Domestic fiction, Dysfunctional families, Poverty, Forgiveness
Awards: Finalist for the 2020 Pulitzer Prize for Fiction
Gail's Comment: I love how the NPR reviewer characterizes Patchett's writing: "Motherless Children Make Their Own Family….Patchett's concern here, as in much of her fiction, is with the often unconventional families we cobble together with what's available to us. Being Patchett, she brings her novel around to themes of gratitude, compassion and forgiveness. The Dutch House goes unabashedly sentimental, but chances are, you won't want to put down this engrossing, warmhearted book even after you've read the last page."
(Source https://www.npr.org/2019/09/23/762888874/motherless-children-make-their-own-family-in-the-dutch-house )
Summary: At the end of the Second World War, Cyril Conroy combines luck and a single canny investment to begin an enormous real estate empire, propelling his family from poverty to enormous wealth. His first order of business is to buy the Dutch House, a lavish estate in the suburbs outside of Philadelphia. Meant as a surprise for his wife, the house sets in motion the undoing of everyone he loves. Cyril's son Danny and his older sister Maeve are exiled from the house where they grew up by their stepmother. The two wealthy siblings are thrown back into the poverty their parents had escaped from and find that all they have to count on is one another.
(Source: BPL catalogue)
April 28, 2022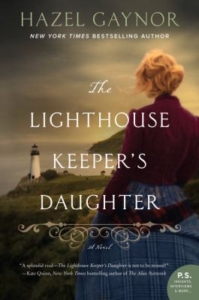 Lighthouse Keeper's Daughter: a novel
By Hazel Gaynor
William Morrow/Harper Collins, c. 2018, 385 pg.
Facilitator: Marilyn Medén
Subject and Genre: Grace Darling – fiction, Lighthouse keepers – fiction, Historical fiction, Biographical fiction
Summary: "They call me a heroine, but I am not deserving of such accolades. I am just an ordinary young woman who did her duty." 1838: Northumberland, England. Longstone Lighthouse on the Farne Islands has been Grace Darling's home for all of her twenty-two years. When she and her father rescue shipwreck survivors in a furious storm, Grace becomes celebrated throughout England, the subject of poems, ballads, and plays. But far more precious than her unsought fame is the friendship that develops between Grace and a visiting artist. Just as George Emmerson captures Grace with his brushes, she in turn captures his heart. 1938: Newport, Rhode Island. Nineteen-years-old and pregnant, Matilda Emmerson has been sent away from Ireland in disgrace. She is to stay with Harriet, a reclusive relative and assistant lighthouse keeper, until her baby is born. A discarded, half-finished portrait opens a window into Matilda's family history. As a deadly hurricane approaches, two women, living a century apart, will be linked forever by their instinctive acts of courage and love."–Amazon. (Source: BPL catalogue)
May 26, 2022
By Esi Edugyan
Harper Collins, c. 2018, 419 p.
Facilitator: Gail Thomson
Genre and Subject: Historical Fiction, Slavery, Fugitive Slaves, Barbados
About the Author: https://en.m.wikipedia.org/wiki/Esi_Edugyan
Awards and Reception: Winner of the 2018 Scotiabank Giller Prize, and was shortlisted for the Booker Prize, the Rogers Writers' Trust Fiction Prize, and the 2019 Andrew Carnegie Medal for Excellence in Fiction
"Like Edugyan's previous novels, Washington Black brings nuance and magnetism to relationships between colonizer and colonized." Source: https://quillandquire.com/authors/esi-edugyan-makes-history-with-washington-black/
"Washington Black received positive early reviews. Trade journals Kirkus Reviews, Booklist, and Library Journal all gave the book starred reviews." Read more at https://en.m.wikipedia.org/wiki/Washington_Black
Summary: When two English brothers arrive at a Barbados sugar plantation, they bring with them a darkness beyond what the slaves have already known. Washington Black – an eleven year-old field slave – is horrified to find himself chosen to live in the quarters of one of these men. But the man is not as Washington expects him to be. His new master is the eccentric Christopher Wilde – naturalist, explorer, inventor and abolitionist – whose obsession to perfect a winged flying machine disturbs all who know him. Washington is initiated into a world of wonder: a world where the night sea is set alight with fields of jellyfish, where a simple cloth canopy can propel a man across the sky, where even a boy born in chains may embrace a life of dignity and meaning – and where two people, separated by an impossible divide, can begin to see each other as human. But when a man is killed one fateful night, Washington is left to the mercy of his new masters. Christopher Wilde must choose between family ties and young Washington's life. What follows is a flight along the eastern coast of America, as the men attempt to elude the bounty that has been placed on Washington's head. Their journey opens them up to the extraordinary: to a dark encounter with a necropsicist, a scholar of the flesh; to a voyage aboard a vessel captained by a hunter of a different kind; to a glimpse through an unexpected portal into the Underground Railroad. This is a novel of fraught bonds and betrayal. What brings Wilde and Washington together ultimately tears them apart, leaving Washington to seek his true self in a world that denies his very existence. From the blistering cane fields of Barbados to the icy plains of the Canadian Arctic, from the mud-drowned streets of London to the eerie deserts of Morocco, Washington Black teems with all the strangeness of life. This inventive, electrifying novel asks, What is Freedom? And can a life salvaged from the ashes ever be made whole? (Source: BPL catalogue)
June 23, 2022
By Barbara Kingsolver
HarperCollins Publishers, c2012, 436 p.
Facilitator: Carol Woodworth
Subject and Genre: Fiction, Thriller, Climatic changes, Appalachian Mountains, Families
Summary: Set in the present day in the rural community of Feathertown, Tennessee, this novel tells the story of Dellarobia Turnbow, a petite, razor-sharp 29-year-old who nurtured worldly ambitions before becoming pregnant and marrying at seventeen. Now, after more than a decade of tending to small children on a failing farm, oppressed by poverty, isolation and her husband's antagonistic family, she has mitigated her boredom by surrendering to an obsessive flirtation with a handsome younger man. In the opening scene, Dellarobia is headed for a secluded mountain cabin to meet this man and initiate what she expects will be a self-destructive affair. But the tryst never happens. Instead, she walks into something on the mountainside she cannot explain or understand: a forested valley filled with a lake of silent red fire that appears to her a miracle. After years lived entirely in the confines of one small house, Dellarobia finds her path suddenly opening out, chapter by chapter, into blunt and confrontational engagement with her family, her church, her town, her continent, and finally the world at large.
(Source: BPL catalogue)
July 28, 2022
By Richard Powers
W. Norton & Company, c. 2018, 502 p.
Facilitator: John Hagen
Subject and Genre: Fiction, Trees, Forest conservation, Forests and forestry
Awards: Winner of the Pulitzer Prize in Fiction
Winner of the William Dean Howells Medal
Shortlisted for the Man Booker Prize
Over One Year on the New York Times Bestseller List
A New York Times Notable Book and a Washington Post, Time, Oprah Magazine, Newsweek, Chicago Tribune, and Kirkus Reviews Best Book of the Year
Reviews and Endorsements:
"Monumental…The Overstory accomplishes what few living writers from either camp, art or science, could attempt. Using the tools of the story, he pulls readers heart-first into a perspective so much longer-lived and more subtly developed than the human purview that we gain glimpses of a vast, primordial sensibility, while watching our own kind get whittled down to size….A gigantic fable of genuine truths."
— Barbara Kingsolver, The New York Times Book Review (cover review)
"Remarkable….This ambitious novel soars up through the canopy of American literature and remakes the landscape of environmental fiction." — Ron Charles , Washington Post
"Autumn makes me think of leaves, which makes me think of trees, which makes me think of The Overstory, the best novel ever written about trees, and really, just one of the best novels, period." — AnnPatchett
Summary: A novel of activism and natural-world power presents interlocking fables about nine remarkable strangers who are summoned in different ways by trees for an ultimate, brutal stand to save the continent's few remaining acres of virgin forest.
(Source: Burnaby Public Library catalogue)
The Overstory, winner of the 2019 Pulitzer Prize in Fiction, is a sweeping, impassioned work of activism and resistance that is also a stunning evocation of—and paean to—the natural world. From the roots to the crown and back to the seeds, Richard Powers's twelfth novel unfolds in concentric rings of interlocking fables that range from antebellum New York to the late twentieth-century Timber Wars of the Pacific Northwest and beyond. There is a world alongside ours—vast, slow, interconnected, resourceful, magnificently inventive, and almost invisible to us. This is the story of a handful of people who learn how to see that world and who are drawn up into its unfolding catastrophe. (Source: WW Norton publisher)