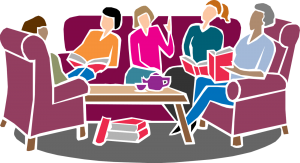 This Beacon-affiliated group meets on the fourth Thursday of the month at 7 pm.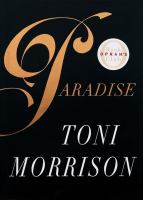 September 26, 2019
Facilitator: Marilyn Medén
Paradise by Toni Morrison
The novel tells the story of the tension between the men of Ruby, Oklahoma (an all-black town founded in 1950) and a group of women who lived in a former convent seventeen miles away. After an opening chapter named after the town, the other chapters are named after some of the female characters, but are not simply about the women. Each chapter includes flashbacks to crucial events from the town's history in addition to the backstory of the titular character. The women in the Convent are Connie (Consolata), Mavis, Gigi (Grace), Seneca, and Pallas (Divine). These women all receive chapters. The townswomen who receive chapters are Pat (Patricia), Lone and Save-Marie. The focus on the women characters highlights the ways the novel portrays the gender differences between the patriarchal rigidity of the townsmen and the clandestine connections between the townswomen and the women at the Convent. The narration serves as an alternative voice to the actions in which the townsmen provide.
(Source: New West Public Library)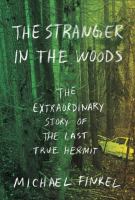 October 24, 2019
Facilitator: Joyanne Landers
Stranger in the Woods: the extraordinary story of the last true hermit by Michael Finkel
For readers of Jon Krakauer and The Lost City of Z, a remarkable tale of survival and solitude–the true story of a man who lived alone in a tent in the Maine woods, never talking to another person and surviving by stealing supplies from nearby cabins for twenty-seven years. In 1986, twenty-year-old Christopher Knight left his home in Massachusetts, drove to Maine, and disappeared into the woods. He would not have a conversation with another human being until nearly three decades later when he was arrested for stealing food. Living in a tent even in winter, he had survived by his wits and courage, developing ingenious ways to store food and water, to avoid freezing to death. He broke into nearby cottages for food, clothes, reading material, and other provisions, taking only what he needed, but terrifying a community never able to solve the mysterious burglaries. Based on extensive interviews with Knight himself, this is a vividly detailed account of the why and how of his secluded life–as well as the challenges he has faced returning to the world. A riveting story of survival that asks fundamental questions about solitude, community, and what makes a good life, and a deeply moving portrait of a man who was determined to live his own way, and succeeded.
(Source: New West Public Library)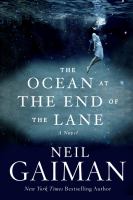 November 28, 2019
Facilitator: John Hagen
The Ocean at the End of the Lane by Neil Gaiman
It began for our narrator forty years ago when the family lodger stole their car and committed suicide in it, stirring up ancient powers best left undisturbed. Dark creatures from beyond the world are on the loose, and it will take everything our narrator has just to stay alive: there is primal horror here, and menace unleashed – within his family and from the forces that have gathered to destroy it. His only defense is three women, on a farm at the end of the lane. The youngest of them claims that her duckpond is ocean. The oldest can remember the Big Bang.
(Source: NWPL Catalogue)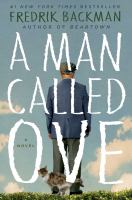 January 23, 2020 (Note: no meeting in December)
Facilitator: David Kristjanson
A Man Called Ove by Fredrik Backman
Read the New York Times bestseller that has taken the world by storm!
In this "charming debut" (People) from one of Sweden's most successful authors, a grumpy yet loveable man finds his solitary world turned on its head when a boisterous young family moves in next door.
Meet Ove. He's a curmudgeon–the kind of man who points at people he dislikes as if they were burglars caught outside his bedroom window. He has staunch principles, strict routines, and a short fuse. People call him "the bitter neighbor from hell." But must Ove be bitter just because he doesn't walk around with a smile plastered to his face all the time?
Behind the cranky exterior there is a story and a sadness. So when one November morning a chatty young couple with two chatty young daughters move in next door and accidentally flatten Ove's mailbox, it is the lead-in to a comical and heartwarming tale of unkempt cats, unexpected friendship, and the ancient art of backing up a U-Haul. All of which will change one cranky old man and a local residents' association to their very foundations.
A feel-good story in the spirit of The Unlikely Pilgrimage of Harold Fry and Major Pettigrew's Last Stand , Fredrik Backman's novel about the angry old man next door is a thoughtful exploration of the profound impact one life has on countless others. "If there was an award for 'Most Charming Book of the Year,' this first novel by a Swedish blogger-turned-overnight-sensation would win hands down" ( Booklist, starred review).
(Source: NWPL Catalogue)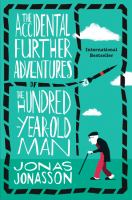 February 27, 2020
Facilitator: Gail Thomson
Accidental Further Adventures of the 109-Year-Old-Man by Jonas Jonassen
What's next for Allan Karlsson? Turns out this centenarian has a few more adventures in store . . .
It all begins with a hot air balloon trip and three bottles of champagne. Allan and Julius are ready for some spectacular views, but they're not expecting to land in the sea and be rescued by a North Korean ship, and they could never have imagined that the captain of the ship would be harboring a suitcase full of contraband uranium, on a nuclear weapons mission for Kim Jong-un. Yikes!
Soon Allan and Julius are at the center of a complex diplomatic crisis involving world figures from the Swedish foreign minister to Angela Merkel and President Trump.
Needless to say, things are about to get very, very complicated.
Another hilarious, witty, and entertaining novel from bestselling author Jonas Jonasson that will have readers howling out-loud at the escapades and misfortunes of its beloved hundred-year-old hero Allan Karlsson and his irresistible sidekick Julius.
(Source: New West Public Library catalogue)
For more information, please contact bookclub@beaconunitarian.org