This Beacon-affiliated group meets online, on the fourth Thursday of the month, at 7 pm.
December 17, 2020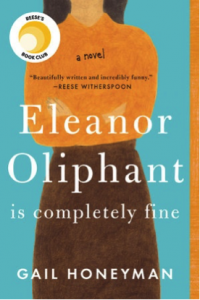 Eleanor Oliphant is Completely Fine
by Gail Honeyman, Penguin Random House Canada, c. 2017, 327 pp.
Facilitator: Carol Woodworth
Genres: Scottish, Women's Fiction, Literary Fiction
Awards: 2017 Costa Debut Novel Award
Book Summary: Quirky Eleanor struggles to relate to other people and lives a very solitary life. When she and the new work IT guy happen to be walking down the street together, they witness an elderly man collapse on the sidewalk and suddenly Eleanor's orderly routines are disrupted. A novel about loneliness and how a little bit of kindness can change a person forever.
About the Author: Gail Honeyman (born 1972[1]) is a Scottish writer[2]. Born and raised in Stirling in central Scotland[3] to a mother who worked as a civil servant and a father in science,[4] Honeyman was a voracious reader in her childhood, visiting the library "a ridiculous number of times a week".[4][5]
She studied French language and literature at Glasgow University, before continuing her education at the University of Oxford for a postgraduate course in French poetry. However, she decided that an academic career was not for her and started a string of "backroom jobs", first as a civil servant in economic development and then as an administrator at Glasgow University.[6]
While working as an administrator, Honeyman enrolled in a Faber Academy writing course,[5] submitting the first three chapters of what would become Eleanor Oliphant is Completely Fine to a competition for unpublished fiction by female writers, run by Cambridge's Lucy Cavendish College.[6] The novel, published in 2017, went on to earn numerous awards and wide critical acclaim.[3] Source: Wikipedia
January 28, 2021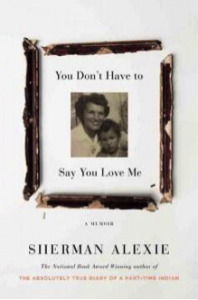 You Don't Have to Say You Love Me
by Sherman Alexie, Little, Brown and Company, c.2017, 457pp.
Facilitator: David Kristjanson
Genres: Native American Literature, Literary Memoir, Autobiography
Awards: the author is the recipient of numerous awards
Book Summary: Presents a literary memoir of poems, essays, and intimate family photos that reflect on the author's complicated relationship with his mother and his disadvantaged childhood on a Native American reservation.
The Instant New York Times Bestseller One of the most anticipated books of 2017—Entertainment Weekly and Bustle A searing, deeply moving memoir about family, love, loss, and forgiveness from the critically acclaimed, bestselling National Book Award-winning author of The Absolutely True Diary of a Part-Time Indian. Family relationships are never simple. But Sherman Alexie's bond with his mother Lillian was more complex than most. She plunged her family into chaos with a drinking habit, but shed her addiction when it was on the brink of costing her everything. She survived a violent past, but created an elaborate facade to hide the truth. She selflessly cared for strangers, but was often incapable of showering her children with the affection that they so desperately craved. She wanted a better life for her son, but it was only by leaving her behind that he could hope to achieve it. It's these contradictions that made Lillian Alexie a beautiful, mercurial, abusive, intelligent, complicated, and very human woman.When she passed away, the incongruities that defined his mother shook Sherman and his remembrance of her. Grappling with the haunting ghosts of the past in the wake of loss, he responded the only way he knew how: he wrote. The result is a stunning memoir filled with raw, angry, funny, profane, tender memories of a childhood few can imagine, much less survive. An unflinching and unforgettable remembrance….
About the Author: Sherman Joseph Alexie Jr. is a Spokane-Coeur d'Alene-American novelist, short story writer, poet, and filmmaker.
His writings draw on his experiences as an Indigenous American with ancestry from several tribes.
He grew up on the Spokane Indian Reservation and now lives in Seattle, Washington. (Source: Wikipedia) 
February 25, 2021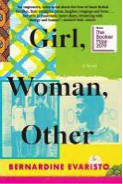 Girl Woman Other
by Bernardino Evaristo, Penguin, c. 2019, 452 pp.
Facilitator: John Hagen
Genre: British, Nigerian, Literary Fiction, Coming of Age
Awards: Booker Prize 2019
BRITISH BOOK AWARDS AUTHOR & FICTION BOOK OF THE YEAR 2020
THE SUNDAY TIMES 1# BESTSELLER
Book Summary: "A must-read about modern Britain and womanhood . . . An impressive, fierce novel about the lives of black British families, their struggles, pains, laughter, longings and loves . . . Her style is passionate, razor-sharp, brimming with energy and humor. There is never a single moment of dullness in this book and the pace does not allow you to turn away from its momentum."–Booker Prize Judges
Bernardine Evaristo is the winner of the 2019 Booker Prize and the first black woman to receive this highest literary honor in the English language. Girl, Woman, Other is a magnificent portrayal of the intersections of identity and a moving and hopeful story of an interconnected group of Black British women that paints a vivid portrait of the state of contemporary Britain and looks back to the legacy of Britain's colonial history in Africa and the Caribbean.
The twelve central characters of this multi-voiced novel lead vastly different lives: Amma is a newly acclaimed playwright whose work often explores her Black lesbian identity; her old friend Shirley is a teacher, jaded after decades of work in London's funding-deprived schools; Carole, one of Shirley's former students, is a successful investment banker; Carole's mother Bummi works as a cleaner and worries about her daughter's lack of rootedness despite her obvious achievements. Froma nonbinary social media influencer to a 93-year-old woman living on a farm in Northern England, these unforgettable characters also intersect in shared aspects of their identities, from age to race to sexuality to class.
Sparklingly witty and filled with emotion, centering voices we often see othered, and written in an innovative fast-moving form that borrows technique from poetry, Girl, Woman, Other is a polyphonic and richly textured social novel that shows a side of Britain we rarely see, one that reminds us of all that connects us to our neighbors, even in times when we are encouraged to be split apart. (Source: NWPL)
About the Author: Bernardine Evaristo is the Anglo-Nigerian award-winning author of several books of fiction and verse fiction that explore aspects of the African diaspora: past, present, real, imagined. Her novel Girl, Woman, Other won the Booker Prize in 2019. Her writing also spans short fiction, reviews, essays, drama and writing for BBC radio. She is Professor of Creative Writing at Brunel University, London, and Vice Chair of the Royal Society of Literature. She was made an MBE in 2009. As a literary activist for inclusion Bernardine has founded a number of successful initiatives, including Spread the Word writer development agency (1995-ongoing); the Complete Works mentoring scheme for poets of colour (2007-2017) and the Brunel International African Poetry Prize (2012-ongoing). www.bevaristo.com
(Source: Penguin)
For more information, please contact bookclub@beaconunitarian.org